SF Free Innovation Online-Seminar
Efficient Service and Sales in Mechanical Engineering with Augmented Reality
May 27th, 2020
Online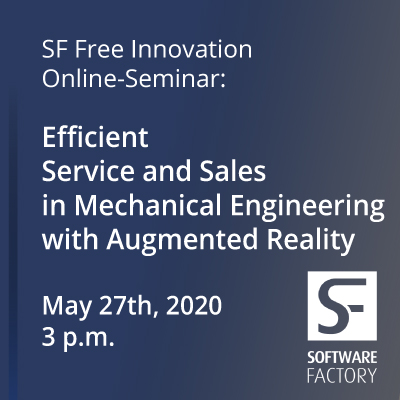 Travel expenses for sales and service activities, missing information, repeated customer visits for repairs and now travel restrictions due to the Corona crisis, all provide support for a better customer experience for sales and service. But the latter can also provide opportunities. Software Factory and PTC want to show you how you can emerge from this crisis stronger with augmented reality (AR) technology.
AR can help you quickly and easily with 3D product visualization, remote assistance, step-by-step instructions and presentation of all relevant information to master the challenges mentioned above.
On May 27th at 3 p.m. we will show you in a one-hour online seminar various facets around AR and what potential the technology has for you in service and sales.
Start with our Free Innovation Online Seminar:
Efficient service and sales in mechanical engineering with augmented reality
Agenda:
1. Why augmented reality and why now?
2. Maturity level digitization and continuous data availability
3. Overview of use cases and benefits of augmented reality
4. Solutions for augmented reality
5. Live demo with augmented reality solution
6. Questions and answers
Just sign up below!
Participation is free of charge and non-binding for you.
Leave us your questions in the registration form, which we will be happy to answer in the online seminar.
We look forward to your participation.
PS: You can already experience the possibilities of AR in advance. Simply use the following offer from PTC until June 30, 2020, in which you can use the full version of the Remote Expert Guidance App, Vuforia Chalk, free of charge in professional and private settings (product video).