Future Technology Research Virtual Workshop
1:00 p.m. – 3:30 p.m. ET, July 22nd, 2020
Virtual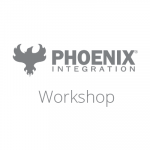 Our partner, Phoenix Integration, will be hosting a virtual workshop on "Future Technology Research" on June 22nd from 7:00 p.m. to 9:30 p.m CEST.
Despite being founded in 1995, Phoenix Integration is continuing to innovate in the realm of Model Based Engineering. Throughout the two-and-a-half hour session, Phoenix Integration will go into detail on their latest developments and technologies.
Featured presenter:
Mr. Chris Delp, Group Supervisor at NASA Jet Propulsion Laboratory
Recent Phoenix projects will be described and discussed by:
Dr. Andy Ko, Director, Engineering Services at Phoenix Integration
Dr. Scott Ragon, Director, Technical Business Development at Phoenix Integration
Agenda:
Welcome
Automatic Analysis Verification
Completing the Digital Thread for Traceability and Repeatability
Utilizing Containerization Technology to Enhance the Engineering Workflow
Enabling Greater Collaboration
Version Controlling Engineering Workflows
Summary and Q&A
Participation in the workshop is free.
For event registration, click here.