Getting Started with Creo Toolkits Programming for PTC Creo
October 07th, 2021
Webinar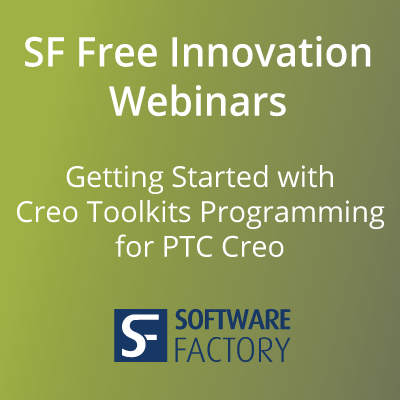 As part of our SF Free Innovation Webinars, we are once again offering a variety of webinars on the topics PTC Creo Toolkits, Creo WEB.Link and ThingWorx Navigate this fall.
In our first webinar in fall 2021, we´ll address the topic Creo Toolkits Programming for PTC Creo. Join us on October 07th at 10 am or 4 pm to expand the knowledge you´ve already gained! Bring even more innovation and digitization into your company!
Getting Started with Creo Toolkits Programming for PTC Creo (45 mins)
Thursday, 07.10.2021 at 10 am CEST or 4 pm CEST/ 7 am PDT / 10 am EDT
Why should you use an API to customize Creo?
How does TOOLKIT compare to other APIs?
What is required for using TOOLKIT?
What is it like to develop TOOLKIT applications?
Register here for our webinars for free! We are looking forward to your participation!
Learn more about our other webinars here!