Getting Started with Creo Toolkits Programming for PTC Creo
07.10.2021
Webinar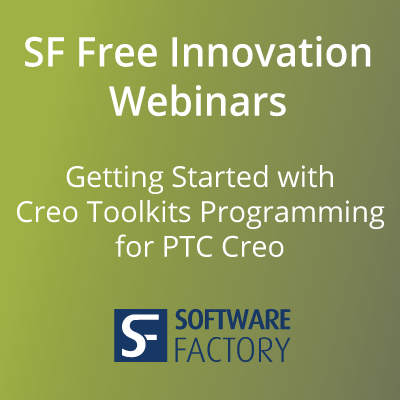 Im Rahmen unserer SF Free Innovation Webinars bieten wir Ihnen im Herbst wieder eine Vielzahl an Webinaren zu den Themen PTC Creo Toolkits, Creo WEB.Link und ThingWorx Navigate.
In unserem ersten Webinar im Herbst 2021, beschäftigen wir uns gemeinsam mit dem Thema Creo Toolkits Programming for PTC Creo. Seien Sie am 07. Oktober um 10 Uhr oder 16 Uhr dabei und erweitern Sie ihr bereits gesammeltes Wissen!
Bringen Sie jetzt noch mehr Innovation und Digitalisierung in Ihr Unternehmen!
Getting Started with Creo Toolkits Programming for PTC Creo (45 mins)
Donnerstag, 07.10.2021 um 10 Uhr CEST oder 16 Uhr CEST/ 7 am PDT/ 10 am EDT
Why should you use an API to customize Creo?
How does TOOLKIT compare to other APIs?
What is required for using TOOLKIT?
What is it like to develop TOOLKIT applications?
Melden Sie sich direkt hier zu unseren kostenlosen Webinaren an! Wir freuen uns auf Ihre Teilnahme! Erfahren Sie noch mehr zu unseren weiteren Webinaren hier!