Getting Started with Windchill & ThingWorx Navigate Development Part II
11.05.2021
Webinar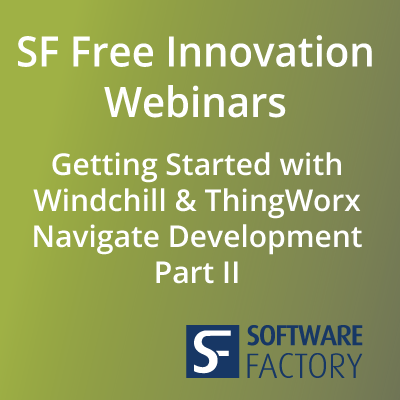 Im Rahmen unserer SF Free Innovation Webinars bieten wir Ihnen eine Vielzahl an Webinaren zu den Themen PTC Creo Toolkits, WEB.Link und ThingWorx Navigate.
Vertiefen Sie gemeinsam mit uns Ihr Wissen zum Thema Navigate! Am Dienstag, 11.05.2021 findet Part II unserer Windchill & ThingWorx Navigate Development Webinare statt.
Bringen Sie noch mehr Innovation und Digitalisierung in Ihr Unternehmen. Nutzen Sie Ihre Zeit im Home Office und #stayathome gewinnbringend mit unseren SF Free Innovation Webinars!
Getting Started with Windchill & ThingWorx Navigate Development Part II (45 mins)
Dienstag, 11.05.2021 um 10 Uhr CEST oder 16 Uhr CEST/ 10 am EDT / 7 am PD
Extension of a custom App:
Custom Parts List based on Windchill Part Structure
Custom Tailoring for custom App
WRS calls for data retrieval
Export & Deployment of ThingWorx Entities
Melden Sie sich direkt unten zu unseren kostenlosen Webinaren an!
Wir freuen uns auf Ihre Teilnahme!
Erfahren Sie hier noch mehr über unsere weiteren Webinare zu den Themen WEB.Link und Toolkit!