Jump Starting Creo WEB.Link Programming for PTC Creo Part II – Creo Parameters
December 2nd, 2021
Webinar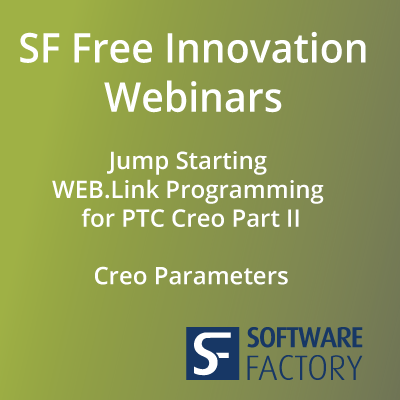 As part of our SF Free Innovation Webinars, we offer a variety of webinars on the topics of PTC Creo Toolkits, WEB.Link and ThingWorx Navigate in 2021.
Join us for our second Webinar on WEB.Link Programming for PTC Creo on December 2nd, 2021. Be there and bring even more innovation and digitization into your company – use your time at home office profitably!
Jump Starting Creo WEB.Link Programming for PTC Creo Part II
Creo Parameters (45 mins)
Thursday, 02.12.2021 at 10 am CET or 4 pm CET/ 7 am PST / 10 am EST
Create parameters
List all parameters of the current model
Edit the value of a specific parameter
Delete parameters
Register for free for our webinars right here! We are looking forward to your participation!
Learn more about our other webinars here!