Jump Starting WEB.Link Programming for PTC Creo Part II – Creo Parameters
15.04.2021
Webinar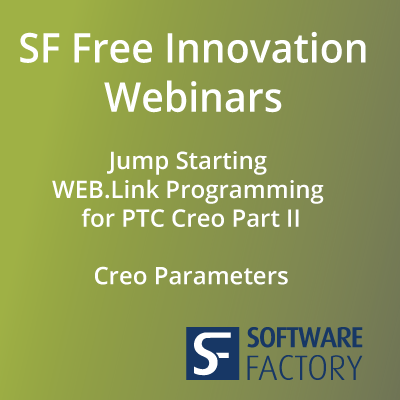 Im Rahmen unserer SF Free Innovation Webinars bieten wir Ihnen eine Vielzahl an Webinaren zu den Themen PTC Creo Toolkits, WEB.Link und ThingWorx Navigate.
Seien Sie am 15. April bei Part II unseres WEB.Link Programming Webinars für PTC Creo dabei. Bringen Sie noch mehr Innovation und Digitalisierung in Ihr Unternehmen – nutzen Sie Ihre Zeit im Home Office und #stayathome gewinnbringend!
Jump Starting WEB.Link Programming for PTC Creo Part II
Creo Parameters (45 mins)
Donnerstag, 15.04.2021 um 10 Uhr CEST oder 16 Uhr CEST/ 10 am EDT / 7 am PDT
Create parameters
List all parameters of the current model
Edit the value of a specific parameter
Delete parameters
Melden Sie sich direkt hier zu unseren kostenlosen Webinaren an! Wir freuen uns auf Ihre Teilnahme! Erfahren Sie noch mehr zu unseren weiteren Webinaren hier!