Creo 7.0 / 8.0 Toolkits Update for PTC Creo
21.10.2021
Webinar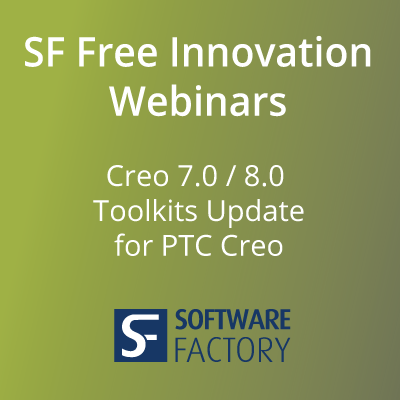 Im Rahmen unserer SF Free Innovation Webinars bieten wir Ihnen im Herbst wieder eine Vielzahl an Webinaren zu den Themen PTC Creo Toolkits, Creo WEB.Link und ThingWorx Navigate.
Verpassen Sie nicht unser nächstes Webinar zum Thema TOOLKIT am 21. Oktober 2021! Erhalten Sie exklusive Informationen zum Creo 7.0 und Creo 8.0 Toolkits Update für PTC Creo direkt von unserem TOOLKIT Experten! Seien Sie dabei, um 10 Uhr oder 16 Uhr! Bringen Sie jetzt noch mehr Innovation und Digitalisierung in Ihr Unternehmen!
Creo 7.0 & Creo 8.0 Toolkits Update for PTC Creo (45 mins)
Donnerstag, 21.10.2021 um 10 Uhr CEST oder 16 Uhr CEST/ 7 am PDT/ 10 am EDT
Building TOOLKIT applications for Creo 7.0 and 8.0 – what´s new?
Improving security by signing TOOLKIT applications
Replacing superseded and deprecated functions
New TOOLKIT functionality in Creo 7.0 and 8.0
Example: Handling multi-body-solids with TOOLKIT
Melden Sie sich direkt hier zu unseren kostenlosen Webinaren an! Wir freuen uns auf Ihre Teilnahme! Erfahren Sie noch mehr zu unseren weiteren Webinaren hier!