Creo 7.0 / 8.0 Toolkits Update for PTC Creo
October 21st, 2021
Webinar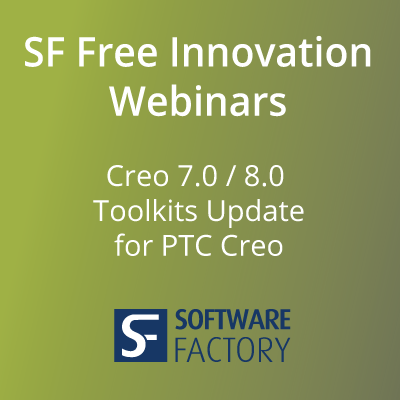 As part of our SF Free Innovation Webinars, we are once again offering a variety of webinars on the topics PTC Creo Toolkits, Creo WEB.Link and ThingWorx Navigate this fall.
Don't miss our next TOOLKIT webinar on October 21st, 2021! Get exclusive information on Creo 7.0 and Creo 8.0 Toolkits Update for PTC Creo directly from our TOOLKIT expert! Join us at 10am or 4pm! Bring even more innovation and digitization into your company!
Creo 7.0 / 8.0 Toolkits Update for PTC Creo (45 mins)
Thursday, 21.10.2021 at 10 am CEST or 4 pm CEST/ 7 am PDT / 10 am EDT
Building TOOLKIT applications for Creo 7.0 and 8.0 – what´s new?
Improving security by signing TOOLKIT applications
Replacing superseded and deprecated functions
New TOOLKIT functionality in Creo 7.0 and 8.0
Example: Handling multi-body-solids with TOOLKIT
Register here for our webinars for free! We are looking forward to your participation!
Learn more about our other webinars here!