Webinar: Climate and environmental protection – making sustainability economical
March 9th, 2022
Online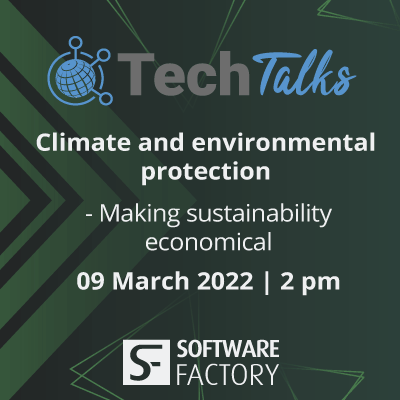 Climate and environmental protection are the topics of our time! They concern everyone and so there is hardly a company that does not have to deal with the challenge of producing as sustainably as possible.
Software Factory supports you in the transition to digital and transparent manufacturing with customized software solutions that support you in your sustainable production. At Lorenz, among others, we were able to use our solutions to develop a modern production control and line system that enables Lorenz to produce radio-controlled water meters sustainably. The system makes it possible to use modern technologies such as IoT, IT security, intelligent apps or even process data processing and at the same time takes into account the requirements of a production for variable batch sizes.
Now is the time to address forward-looking topics such as sustainability in industry!
Are you also thinking about making your company more climate and environmentally friendly? Then we would like to invite you to the following TechTalk from IT & Production:
Webinar: Climate and Environmental Protection – Making Sustainability Economical
Wednesday, March 9th, 2022 | 2:00 – 3:00 p.m.
Learn more from Dr. Andreas Gallasch about contemporary approaches to sustainable production and how software solutions can profitably support you in this endeavor.