ThingWorx

ThingWorx is the world's leading IoT software platform for the smart, connected world and was specially designed as a completely new solution for the Internet of Things (IoT). It provides the most comprehensive set of integrated IoT-specific development tools offering the most extensive performance capabilities available in industry. ThingWorx simplifies and accelerates the development of powerful, secure enterprise IoT solutions for a sustainable increase in business success and corporate value.
ATLAS x2x

The independent platform from ATLAStech forms the foundation of your digital transformation. What is special about ATLAS x2x is that it does not rely on long-term ties to the platform provider through complicated license models; it allows you to become a platform owner from the purchase. Take advantage of the following platform benefits:
Immediately usable
Significantly shortened development times
Tailored to your requirements
Complete independence
Open infrastructure
Ready-to-use toolbox
Unlimited adaptations / extensions
The Internet of Things (IoT) and Industry 4.0, which builds on it, offer companies completely new possibilities and opportunities for action. The networking of products, sensors, machines, IT systems and people is making workflows, production and working processes faster, more efficient and more economical. Thanks to our expertise as a software firm active in the automotive, mechanical and plant engineering, medical device, automation technology, tool and mold making, and aviation and aerospace industries, we are familiar with the challenges facing new technologies, the software industry and manufacturing companies. We work with companies to develop the right IoT strategy for them.
A survey conducted by the Bavarian regional subsidiary of the Mechanical Engineering Industry Association (VDMA) has identified the areas that need to be most urgently addressed by industry: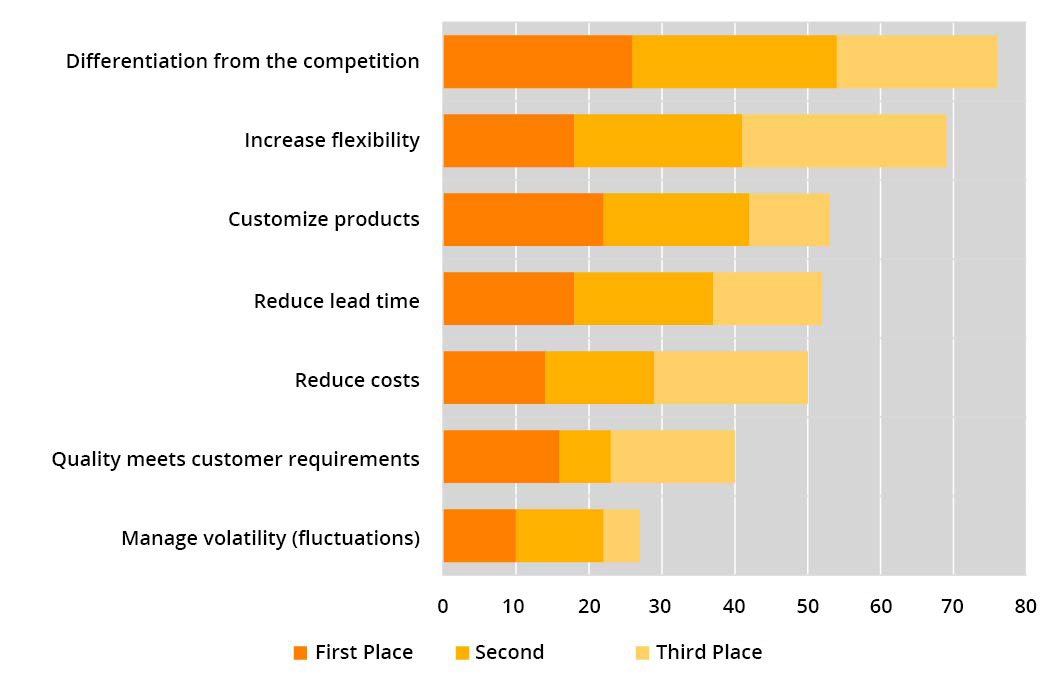 Prototyping

Prototyping
Practical example
Demo with customer or simulated data
Verification of the usability of the data store in ThingWorx
Development of 1-3 simple GUIs. Project duration: 5 person-days
Feasibility study
Extended demo with customer or simulated data
Verification of the usability of the data store in ThingWorx
Scope: development of a functioning model
For evaluation purposes only; no application test at the customer's premises
Limited in time to the SF development environment
Recommended actions for the next steps
Project duration: 20 person-days
Pilot project
Extended feasibility study with increased complexity and more complex data
Scope: up to 10 data stores, 1 process, 1 – 3 dashboards
Use in ThingWorx (up to 4 months)
5 licenses for customer tests
Use of the platform after development
Project duration: 4 months
Solution Development
Although the digital transformation offers many opportunities, it is also confronting companies with clear challenges. New services and business models must be developed for existing and new products, and the development and manufacturing methods and production processes must be digitalized. In a disruptive environment, the development of solutions demands innovative strength, speed and agility.
Software Factory is your innovation partner and helps you achieve market readiness in your own digital transformation. In addition to our specialist expertise in the field of digital product development and discrete manufacturing, we have the software development methods, architectural knowledge and UX design experience necessary to develop solutions to meet your requirements quickly, reliably and in short release cycles.
Hands On Workshop

We close the gap between IoT theory and practice on the basis of simple but fascinating examples: In our IoT workshop, we convey the ideas and underlying principles of the Internet of Things (IoT) clearly and realistically based on practical examples using Lego® Mindstorms and the IoT platform ThingWorx®. Participants can implement and experience key issues such as connectivity, data analysis and predictive maintenance "hands-on" using Lego® robots that are controlled and monitored by ThingWorx®.